BUY NOW
Enor vol.2
@absinth wormwood
date_range 03.09 (Sat) 20:00 to 01:00
grade techno/tech/deep
label

蓮輪*

DMITRI ABSINTHE

不動貴雄 aka TAKAO-HIBRID

NAOTO
JAPAN / KANSAI
South Yotsubashi Bldg 1F, 1-2-27 Kitahorie, Nishi-ku, Osaka
06-6534-6635
"Enor" is a coined term of "sensor". This is a flexible party that aims to produce a space where players and customers can enjoy freely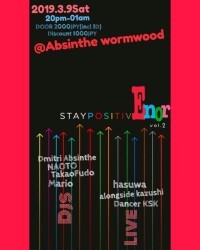 https://www.facebook.com/events/235346927394732/?ti=icl

"Enor" is a coined term of "sensor".
This is a flexible party that aims to produce a space where players and customers can enjoy freely in various creative spaces.
We would like to continue as a place to deepen the various exchanges of visitors or as an entertainment tool that visitors can find new enjoyment.


2019.03.09 Sat
party " Enor " @Absinthe wormwood
start20pm - close01am
Door 2000JPY(Incl 1D)
Discount 1000JPY

⬜️Djs
Dmitri Absinthe
Mario
NAOTO
Takao Fudo

⬜️Live
hasuwa
alongsideDj kazushi
dancer KSK

produce HASUWARK

Enorとはsensorの造語です。
様々なcreative space において、
すべての人が自由に楽しめる空間を演出することを目的とする自由なparty.

様々な交流を深める場として、または、
新しい楽しみを見つけることができるエンターテイメントツールとして。

"楽"
share
Pop-out